About us
Read our Story, How we started and about the Team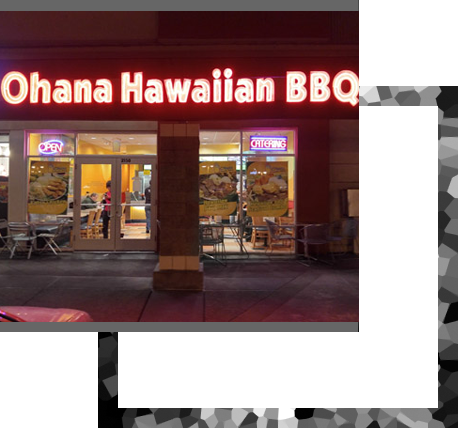 Our Story
For the culture-rich state of Hawaii, locals have been enjoying the best mix of ethnic and Polynesian food for years. This unique blend of taste, the different usage of spices and ingredients has developed into a fantastic collection of flavorful local Hawaiian food. We at Ohana Hawaiian BBQ (Part of the Ahu's Hawaiian BBQ Group of Companies) have dedicated ourselves to bring these unique flavors of food and plate lunches to the mainland.

"To become the leader in Hawaiian food; and to bring the Hawaiian island flavor and its Ohana spirit to the mainland."
See Our Menu
5 stars for delicious food at a great price! The inside dining experience isn't that great...but you can't beat 2 meals for less than $15. When there isn't a long line, the wait for your food isn't long at all. *Make sure you get the Katsu sauce!

I grew up on O'ahu and whenever Im in the mood for a Hawaiian Sun drink, this is the place to go. Kahlua pork lunch plate is my go-to. And of course, the Spam Musubi. Their Mac is spot on too. This place reminds me of the manapua man and I love it.

Located in the middle of the Santa Rosa Avenue shopping center, Ohana is a Hawaiian bar-b-q restaurant and is unique to Santa Rosa. There is not many places to get Hawaiian food in Santa Rosa so Ohana is a fun place to visit. Ohana is a small take out restaurant with a few tables inside. Inside the restaurant has fun Hawaiian vibes with islander decorations and music. The cashiers have always been very kind in my experiences as well.